Controlled synergy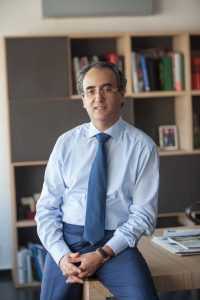 It gives me a pleasure to welcome you to GMH Group website which I hope will create an opportunity for our valued visitors around the world to learn more about our various business activities, ambitions and values across the group.
Now entering our 15th year, our group has decided to integrate all its business activities under the same holding company, and increase its online presence and traffic. Our main goal remains to be performance-driven and to be very successful in expanding our global reach in the media environment through the various media platforms we have successfully developed so far.
Our most important capital lies in our core values. So as one team within the group, we are all inspired by our principles and founding values, strengthened by the trust in our brands and valued partners nationally and internationally. Therefore, as soon as we started our operations with the launch of the first information website, the tone was set. We uphold the universal values focused on respect for human rights, democracy, good governance and peace. This positioning has enabled us to establish meaningful relationships with major international media brands, making it necessary to nurture this synergy.
All our media outlets are already designed within the same aspiration. "L'Observateur du Maroc et d'Afrique" issues a supplement produced by prominent journalists from all over the African continent. The same strategy entails further opening up to both America and Europe through the publication of supplements produced by leading world-class media brands such as the American "Wall Street Journal" and the Spanish "El Mundo".
We have taken risks by making the choice to launch the African magazine, media "Pouvoirs d'Afrique". Our goal was, and remains, to continue providing a deep insight and analysis of the current events on the continent, while bringing forward the new elites who shape the changes, at all levels. Now this magazine has become a must, because its approach is so specific. It is the only international media that is focused s on those players who initiate change across Africa.
Our group also includes the daily Al Ahdath Al Maghribia, a value-laden newspaper because it is very much attached to the principles of modernity and democracy. The Arabic daily is also perceived as the mouthpiece for the democratic elites.
In our endeavor to concentrate and invest in the digital transformation of the publishing industry, we have created Kifache.com and "Kifache" TV. Both outlets are regarded as cutting edge online platforms providing space for serious and meaningful debates with a certain lightness of touch. The group's digital portfolio includes an online high-end women's magazine as well, "Lala Moulati". As for the broadcasting sector, GMH includes a radio channel, Med Radio, which became a leading player in the field within just a few years of existence.
All these media platforms have the same editorial stand, fierce defenders of the values of modernity, each within their specific area. But because the universal values know no boundaries, it is clear that the next decade will be marked by international alliances in the media sector.
This explains our presence in a number of prestigious think-tanks. This is also what justifies our approach which consists of achieving synergies between all our media outlets in order to offer an attractive and meaningful platform to our partners because our ultimate goal is a pronounced international reach.
Ahmed Charai